F30i Fette Tablet Press
Dust-tight and high-performance next-generation tablet production.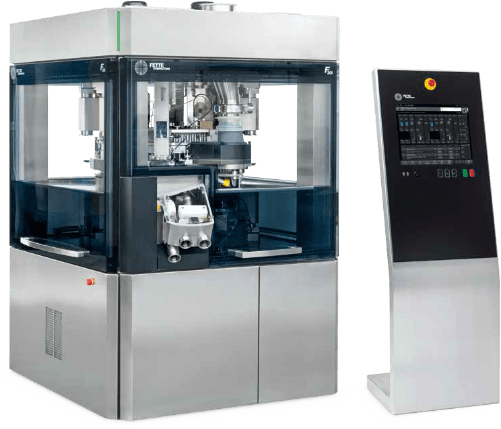 Features and advantages of the new F30i Tablet Press
Dust-Tight and High-Performance Next Generation tablet production
Can be ordered with an OEL Level of up to 4
New and completely redesigned Dust Tight Chute, Standard
New and improved design tablet chute to avoid jamming
40% shorter time in cleaning
71% less shrouding parts, with a reduction of 74% surfaces to be cleaned
External control cabinet with energy monitoring system
Operator login by using RFID technology. Easy access for faster processes and machine operation. Time saving as no manual entries are required.
Maximum security in the management of the operators. Login for operators and service technicians for various tasks.
Various operating authorizations can be defined 21 CFR Par 11 compliant
Single and Double Layer capabilities. Dynamic Sampling standard.
New and improved punch lubrication. Separate control for head lubrication and shaft lubrication for upper and lower punches.
Direct torque drive with cooling system
Compatible with die tables from 3090 or 3200 machines with a small modification to the turrets.
New and improved scrapers with air adjustment
Single point of adjustment for the feeder plates with readable scale for repeatability.
Air Reject for single tablet rejection.
Chute with Air assist.
Uses the same compression rollers as the 3090 and 3200.
Compatible with old Checkmasters
New and improved 19" HMI Touch Only HMI with touch sensitive keys
Awesome graphics
Same parameter list as all the other Fette Tablet Presses (If you  have been trained already on a Fette Tablet press, then you can run the New Generation F30i Press)
You can load your own SOP in the HMI
Real time monitoring
Same floor space as 3090 or 3200
No tools required for disassembling or cleaning.
Contact us today
For more information, you can download the F30i Product brochure here or contact us at your convenience: